I am not receiving the confirmation e-mail
If you have started the process of joining a Group but you are not receiving the confirmation email to finish setting up your account, it may be due to several reasons.
The email arrives in the SPAM or promotions folder. Check the SPAM mailbox, trash, archived, Other and Promotions. If it is not in any of these folders, your mail provider may have put us in undesirable senders.
If you have already checked the above folders, check the list of undesirable senders in your mailbox to make sure info@teaming.net or noreply@teaming.net is not mentioned.
To make sure your provider sends you our emails, add info@teaming.net and noreply@teaming.net to the list of validated senders and to your contacts.
Once steps 1-3 are done, try asking for the confirmation email again by filling in your details here > "Resend validation email".
It can also happen that the email you filled in was not the correct one. This can happen for example if you fill in something like .gmai.com instead of gmail.com. In this case, if you access this link and fill in your details, you will be returned an error "The e-mail address and password you entered are not in our database.". In this case, please start the registration process from scratch with the correct email.
The email you filled in does not correspond to the one you are checking. This can happen for example if you have several emails, such as one in Hotmail and another in Gmail and you are checking an email that is not registered in Teaming.
In order to guide you better, once all the above steps have been checked, please visit this page: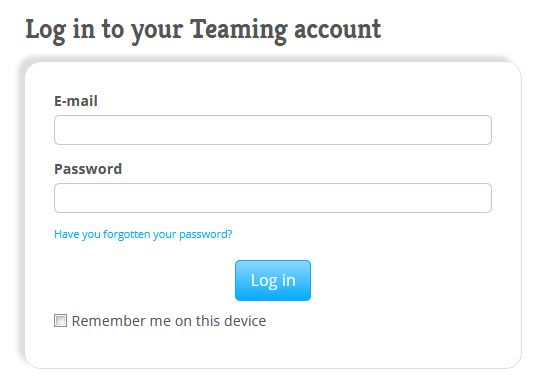 Once you have reached this screen, you will have to fill in the email and password defined at the time of your registration.
If you get an error of type "You need to validate your email", click on "Resend validation email".
If you get an error message that you cannot solve, contact us and we will help you.