How can I change my privacy policy?
In Teaming you can choose which data is public and which data is private. You can decide if you want to be private or public:
The number of groups you are collaborating with and the money you have donated so far.
The name of the Groups you are collaborating with.
If your Teaming profile appears or not in Google's search results.
Your country and region.
How can you configure your privacy policy?
1.Visit the page to set your privacy by clicking here.
2. You will be asked for the email address and password you use for Teaming. If you don't remember the password, click here.
3. Once you have logged into your Teaming account, you will see a screen like this with different options: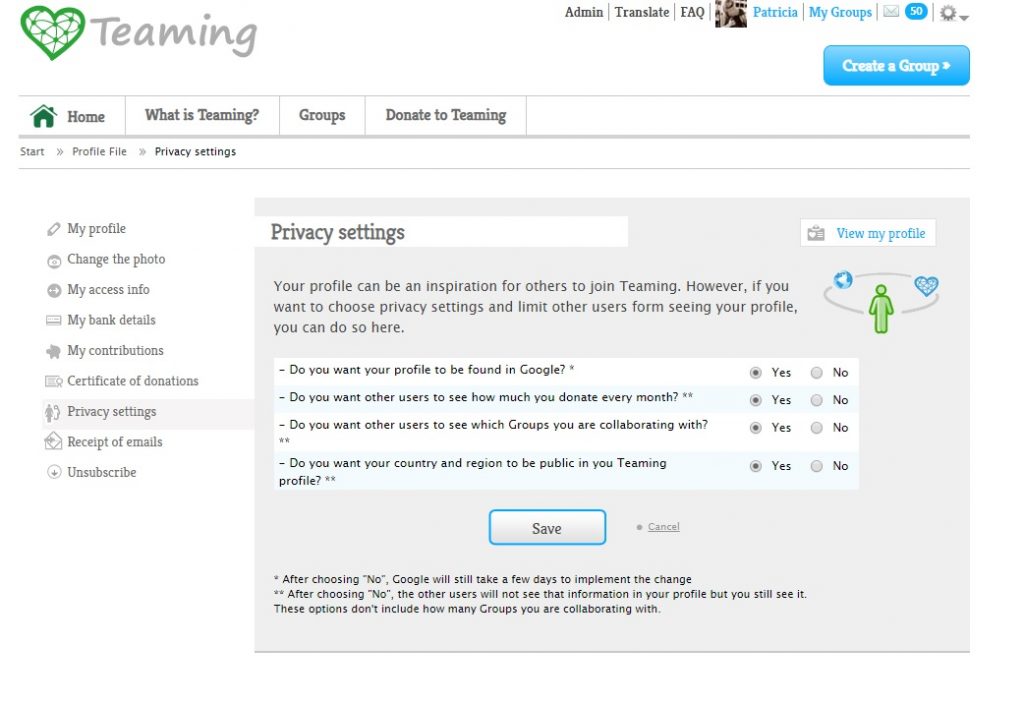 4. Select "Yes" for things that you want to be public or select "No" for things that you want to be private.
You can also access this option by clicking on the menu you have on top right of the website (after logging into your Teaming Account). You will see the option "Privacy policy".
It's important to keep in mind:
For extra privacy, you can introduce a nickname instead of your first and last name. This will not affect us to charge your euro or your donation certificate because, for your certificate, you will have another section where you indicate the official data of your ID. If you choose a nickname, no one will be able to see you in the list of Teamers of your Groups. To change your name and surname, click here.
If you select that you don't want your data to be included in Google, Google may take a few days to process the change.
If you mark that you don't want some of the data that appears publicly on your profile to be visible, it's important to know that you'll still see your full profile. Others will no longer see this data. To check that everything is OK, visit your Teaming profile from a different browser, or sign out of your Teaming account and visit your profile. If you want to know how to discover the address of your Teaming profile, click here.